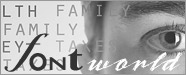 Web Fonts
Microsoft's fonts for the Web:
Andale Mono (formerly Monotype.com)
Arial
Arial Black

Comic Sans MS

Courier New

Georgia

Impact
Times New Roman

Trebuchet MS

Verdana

Webdings

Adobe Minion Web
[ Read More ]




ARTICLES


Rosalie Myrtle Running Bear Love Little White Dove
On a warm late summer day in September (the 18th), 1921, she was born Myrtle Mary Washington Wood to Bailus Earl Wood and Pearl Wooten Wood. Catholic? Hardly. Her parents were Hard-shell Baptists of Dutch decent lost in the back woods of the Appalachian Chain. In the time honored tradition of the mountain people of their era - their word was their bond. They labored in the fields under an alternately scorching sun and a bone chilling cold from sun rise to sun set six (6) days a week. The seventh day (actually the first by the calendar) was spent in the House of The Lord.
Leaving the fields on work days with just enough day light remaining to get the teams of mules rubbed down, fed, watered, and stabled for the night. Then there were eggs to gather, hogs to feed, cows to milk, and water to draw from the well before dinner - after which relaxation was found in sitting on the front porch and listening to the unique sounds of the night as the nocturnal life of the mountains scurried about in song and mating call. There were no cars to zoom up and down a noisy highway. no chain saws interrupting the call of the whip-o-rill during the day. no pumped in sound displacing the symphony of crickets, katydids or frogs in the evening. no magic boxes with snowy black and white moving pictures competing with the big dipper and or the beauty of the fire fly against the black of the night sky.
no street lights to disturb one's sleep when the body needed to be manufacturing and releasing melatonin. Rosalie Myrtle was but one of eight siblings - three boys and five girls at a time when the larger the family the better it fared. Why? There were simply more bodies to accomplish more work. Mechanism had not yet over taken the American Farm and the living, if good, was hard and if filled with love and trust, they were earned. Time had to be made to cut one's own heating and cooking wood.
Henry David Thoreau had, after all, rightly observed that by cutting his own wood, a man was warmed by it twice. While the first warming experience may have been anything but comforting, the second time around - setting in front of the fire place - perhaps popping corn - sure was appreciated. A young girl's mind races in the winter night when she should be sleeping, but darkness comes so early this time of year and the flicker of the dying flames in the fire place is pure magic. The flames create a wee bit of light that dances across the floor, hops around the walls, and runs about the ceiling. They cast shadows of one thing creating the appearance of another entirely different. It only exists in the ever active mind of the young and the innocent.
Christmas is on the horizon! What will Santa bring? She hopes for a stick or maybe even two of hoar hound candy, and maybe. an apple or an orange. and a banana sure would be nice. And, maybe Santa could even a leave few pecans or walnuts this year. Though apples, pears, peaches, plums, persimmons, grapes, blackberries, strawberries, blueberries, huckleberries, water melons, walnuts, pecans, and mush melons are abundant in the summer and early fall, there is not much fruit around here in the winter she muses.
And snow! Yes, it will be Christmas, and we should have snow. Snow really lights up the night! It saves kerosene, too, she thinks as if trying to convince God while watching the last flickers of the fire and is sure it casts a shadow of Rudolph flying across the north wall. But Rosalie Myrtle can't remain a little girl in flour sack dresses forever. Soon enough she is a beautiful and vivacious young lady in love with a good looking well tanned young Cherokee Indian - a farm boy across the mountain who had been encountered a time or two while on errands for her father. The Wood's had no problem with the Indian boy who turned out to be better to them than their own children, but his family had picked out a young Cherokee Maiden to be his wife. Against the wishes of his family, Rosalie Myrtle married the young Indian just before he went off to World War II drafted as a white man.
It was really easy to pass in those days and he wanted to give their children every advantage a Tennessee Mountain Man could in the world of the forked tongue so he never corrected the record. She was the only one of the Woods girls to stay married to the same man until he died of coronary artery disease while in the prime of his life young life just like his father had before him. Her brothers enjoyed a more stable family life than did their other sisters. Rosalie Myrtle, having lived most of her adult life at Rosalie, Alabama, who served honorably as the matron of two different families, went to meet her Lord and be reunited with her young Indian lover on December 12th, 2000 at the age of 79. That was appropriate as her beloved Cherokee had gone to his happy hunting grounds at Christmas some thirty-three years earlier. That millennium Christmas must have been some celebration around the old tepee! Two young lovers wrapped in each others embrace with no shortage of flickering flames.
no sickness and no shortage of candy, fruit or nuts. And, I would even bet that on Christmas Day the old Cherokee who went to war to defend his nation as a white man had his dearly loved Fleetwood Coffee with chickory and one of her home baked white coconut cakes - his favorite. When I remember them together, I think of the old Mercury Record Label song, Running Bear.
Computerman publication
Submitted by: Article Submitter

Fonts
---




Decision Making - Decision Making.

Ebay Weirdest Items - Indeed, E-bay is today's most sought-after shopping portal in the Internet.

Why Learning Brazilian Portuguese is Important - If you are an American and have ever traveled to the UK, or visa versa, then you understand that American English and British English can sometimes feel like completely different languages.

Online Study at Your Own Pace - Online education is becoming increasingly popular because it allows people who may not ordinarily have the opportunity to get qualifications, to do so.

One Million Visionaries Walking A Road Less Traveled - Imagine one million Gandhis stepping forward with vision and in unison as they take a stand for all of humanity.

more...