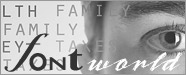 Web Fonts
Microsoft's fonts for the Web:
Andale Mono (formerly Monotype.com)
Arial
Arial Black

Comic Sans MS

Courier New

Georgia

Impact
Times New Roman

Trebuchet MS

Verdana

Webdings

Adobe Minion Web
[ Read More ]




ARTICLES


Nike Dunk Sneaker Phenomenon
The Nike Dunk is a basketball sneaker that was first introduced in 1985. It has a simple design and long history, but in recent years this shoe has exploded into mainstream popularity with many color options and limited edition releases available. It comes in high and low top models, and has recently become an inspiration for fashion, art, and culture. Some notable fans of the Nike Dunk include Kanye West, Nas, Jay-Z, and many other celebrities and musicians. The shoe was reintroduced in 1998, and prices have risen each year to coincide with its popularity.
The Nike Dunk was originally designed for basketball, but has since been used primarily as a casual everyday shoe. Ever since it was reintroduced in 1998, it has been a popular shoe amongst teenagers and young adults, particularly skateboarders. Nike even released "SB" versions of the shoe, which stands for skateboarding. These versions included more durable material and extra padded tongues. In recent years, the Nike Dunk has become one of the most popular shoes amongst sneaker collectors.
Currently, Nike collaborates with many artists and designers to come out with limited releases of the shoe. Some special edition releases of the shoe include the "Heineken", "New Castle", and "De La Soul" models. Some of these shoe collectors, also known as "sneakerheads" even line up the night before the first day of a new release, to ensure that they will get a pair. Sometimes these releases are of 100 pairs or less. Many times they are only released in one store, making them highly rare and sought after.
Nike Dunks are popular across the globe (specifically the US, Europe, and Japan), and collectors who get their hands on one of these regional pairs can easily sell them for hundreds or even thousands of dollars online, such as on eBay. Retail prices range from $75-$100, so there is absolutely an opportunity for entrepreneurs to profit from this phenomenon. with the increased popularity of sneakers in general, online communities have sprung up where people buy, sell, and trade shoes. Enthusiasts post pictures of the latest releases, in addition to what shoes they are wearing today. If you are interested in getting your hands on a pair, or just seeing what Nike Dunks look like, just do an online search and you will discover a plethora of designers, retailers, and pictures.
Joshua Belden collects nike dunks online and hopes to collect every Dunk ever made.
Fonts
---




Decision Making - Decision Making.

Ebay Weirdest Items - Indeed, E-bay is today's most sought-after shopping portal in the Internet.

Why Learning Brazilian Portuguese is Important - If you are an American and have ever traveled to the UK, or visa versa, then you understand that American English and British English can sometimes feel like completely different languages.

Online Study at Your Own Pace - Online education is becoming increasingly popular because it allows people who may not ordinarily have the opportunity to get qualifications, to do so.

One Million Visionaries Walking A Road Less Traveled - Imagine one million Gandhis stepping forward with vision and in unison as they take a stand for all of humanity.

more...