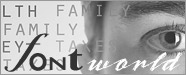 Web Fonts
Microsoft's fonts for the Web:
Andale Mono (formerly Monotype.com)
Arial
Arial Black

Comic Sans MS

Courier New

Georgia

Impact
Times New Roman

Trebuchet MS

Verdana

Webdings

Adobe Minion Web
[ Read More ]




ARTICLES


Josh Groban The New Boy Wonder Of Voice
Hailed as the "New Boy Wonder of Voice" by the New York Times, the American classical and pop singer Josh Groban"s (full name Joshua Winslow Groban) rise to stardom has been nothing short of spectacular. Born on February 27, 1981 in Los Angeles, Josh Groban had his first brush with stardom at age 17 when he sang the song "All I Ask of You" for the Grammy-winning producer/arranger David Foster in an inauguration event organized by him for the Governor of California, Grey Davis. Shortly after this, during the 1999 Grammy rehearsals, he was asked by Foster to stand in for Andrea Bocelli to sing the song "The Prayer" with none other than Celine Dion herself. With his mature and versatile lyrical baritone voice, the young and dashing singing sensation became an instant heartthrob of millions of Americans when his multi-platinum debut album Josh Groban, produced by David Foster, was released in 2001, followed by Closer in 2003 and Awake in 2006. Apart from Foster, Josh has worked in close collaboration with famous musicians like Walter Afanasieff, Italian composer Ennio Morricone, Charlotte Church, The Corrs and Eric Mouquet of Deep Forest.
Josh has also composed some of his own songs, like the ballad "Remember When It Rained", while working in close association with Eric Mouquet. Though Josh had been busy with his singing at various events, he wanted to complete his graduation. But within just one year after joining the Carnegie Mellon University, he had to leave when he was offered a recording contract at Warner Bros.
Records through Foster"s own 143Records. Although trained in classical music and musical theater, his music reflects diverse influences, not fitting into a particular mold. When asked what style suits him the most, Groban"s answer was: "People might want to classify me as operatic I suppose, but I won't even be touching Arias for a long time.
I want my voice to mature. I hope to look back on my career five or ten years from now and see that I continued to grow as a singer. I would never want to be pigeonholed." In addition to English, he has sung in Italian, French and Spanish, as well.
With inspirational and soul-stirring songs like "To Where You Are" (2001) and "You Raise Me Up", Josh established himself in the classical crossover genre. He has also sung the song "For Always" for the soundtrack of "A.I.: Artificial Intelligence" with Lara Fabian and the song "Remember" for the soundtrack of "Troy" with Tanja Tzarovska.
Josh has also appeared in the 2001 season finale of the hit television program Ally McBeal, performing the soulful song "You"re Still You" (from his debut album) at his character's high school prom. The response to this episode was so great that Josh was asked to return to the show and was featured on the holiday episode of Ally McBeal in which he sang "To Where You Are", another track from his new record. Josh also sang "The Prayer" with Charlotte Church at the Closing Ceremony of the 2002 Winter Olympics.
Apart from these, Josh Groban has performed in numerous charity events along with the likes of Elton John, Stevie Wonder, Robin Williams and Don Henley. His appearance in various television chat shows like the Rosie O"Donnell Show, The Oprah Winfrey Show, Jay Leno, Larry King Live, 20/20 and The Today Show, among others, further added to his soaring popularity and fan clubs, so much so that his fans have coined a special term "Grobanites" to identify themselves. Long live Josh Groban and long live Grobanites!.
Learn more about Josh at our Josh Fan Site with Josh Groban Wallpapers and more!
Fonts
---




Decision Making - Decision Making.

Ebay Weirdest Items - Indeed, E-bay is today's most sought-after shopping portal in the Internet.

Why Learning Brazilian Portuguese is Important - If you are an American and have ever traveled to the UK, or visa versa, then you understand that American English and British English can sometimes feel like completely different languages.

Online Study at Your Own Pace - Online education is becoming increasingly popular because it allows people who may not ordinarily have the opportunity to get qualifications, to do so.

One Million Visionaries Walking A Road Less Traveled - Imagine one million Gandhis stepping forward with vision and in unison as they take a stand for all of humanity.

more...