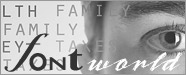 Web Fonts
Microsoft's fonts for the Web:
Andale Mono (formerly Monotype.com)
Arial
Arial Black

Comic Sans MS

Courier New

Georgia

Impact
Times New Roman

Trebuchet MS

Verdana

Webdings

Adobe Minion Web
[ Read More ]




ARTICLES


Fake Data Entry Jobs
Increasing popularity of data entry jobs, filling out forms and typing jobs online is leading to more and more scams. If you are looking for this type of job do your homework first. When applying through email for a proof reader, be sure you don't send an email with typos. You are looking for a data entry job, so the first step is to send out an email RIGHT.
You are the Resume and your email is the qualification and first proof if you are capable to do the job. Don't send out an email like this: "Yeah, I'd like to get more information" or "What's the pay?" First explain why you are the right person for this job and your interest in this topic. Don't exaggerate too much, be specific. Also be prepared to receive request for a sample writing.
This can either be proof reading, transcription job, grammar writing, etc. A good website for finding jobs like these is eLance. Usual Requirements: a) Working Computer b) Word, Wordpad, Notepad c) Internet How To spot A Scam? 90% of data entry jobs are scams. The Scammed individuals are most of the time mommies who want to be at home with their children.
There are legit jobs, more or less those are a rarity in such a big scam industry. If your work-giver from the company you are applying to requires you any fee it is most definitely a scam. You will NEVER have to pay a real contractor a fee. You are working for them, so why would you be paying them? In your normal 9-5 job are you paying your boss? Stop the conversation here and discontinue any further discussion.
These contractors will tell you to : a) Send $ for training b) Send $ for software c) Send $ for supplies or material If they don't ask you for a sample writing, resume or any other document, proof on which you could be judged "good" or "bad" for the job, and only require ANY sort of FEE for the application it is a SCAM! Period. Many websites can be so convincing you could fall for it quite easily, but this is the scammers intention and professionalism. To convince you of something real while in fact it is unreal, not existing.
Usually the supposed fees are being used for a "special software" to perform the job. A legit business will provide you typing software for free and will in no case require any funds to be sent.
Urban is the author of Fake Data Entry Jobs and publisher at Scam Prevention Website.
Fonts
---




Decision Making - Decision Making.

Ebay Weirdest Items - Indeed, E-bay is today's most sought-after shopping portal in the Internet.

Why Learning Brazilian Portuguese is Important - If you are an American and have ever traveled to the UK, or visa versa, then you understand that American English and British English can sometimes feel like completely different languages.

Online Study at Your Own Pace - Online education is becoming increasingly popular because it allows people who may not ordinarily have the opportunity to get qualifications, to do so.

One Million Visionaries Walking A Road Less Traveled - Imagine one million Gandhis stepping forward with vision and in unison as they take a stand for all of humanity.

more...